Created: 19 April 2012
Nice recitation of Chaitanya Mahaprabhu's Lila by His Holiness Bhakti Rasamrita Swami.
Listen
Download (To save, right click and choose Save As.)
 BRasamritaSw Gaur Lila 01 7.06 MB • WMA 
 BRasamritaSw Gaur Lila 02 10.29 MB • WMA 
 BRasamritaSw Gaur Lila 03 6.53 MB • WMA 
 BRasamritaSw Gaur Lila 04 10.59 MB • WMA 
 BRasamritaSw Gaur Lila 05 6.63 MB • WMA 
 BRasamritaSw Gaur Lila 06 5.94 MB • WMA 
 BRasamritaSw Gaur Lila 07 10.49 MB • WMA 
 BRasamritaSw Gaur Lila 08 6.16 MB • WMA 
 BRasamritaSw Gaur Lila 09 6.51 MB • WMA 
 BRasamritaSw Gaur Lila 10 9.53 MB • WMA 
 BRasamritaSw Gaur Lila 11 8.51 MB • WMA 
 BRasamritaSw Gaur Lila 12 7.52 MB • WMA 
 BRasamritaSw Gaur Lila 13 10.66 MB • WMA 
 BRasamritaSw Gaur Lila 14 10.43 MB • WMA 
 BRasamritaSw Gaur Lila 15 8.73 MB • WMA 
 BRasamritaSw Gaur Lila 16 9.65 MB • WMA 
 BRasamritaSw Gaur Lila 17 8.96 MB • WMA 
 BRasamritaSw Gaur Lila 18 5.44 MB • WMA 
 BRasamritaSw Gaur Lila 19 8.71 MB • WMA 
 BRasamritaSw Gaur Lila 20 9.15 MB • WMA  


To Download, Right Click and Choose Save As.
Created: 19 April 2012

His Holiness Bhakti Rasamrita Swami completed his B.E. from M.S University Baroda, MBA from Bombay University & worked for some time in a multinational Bank. Inspired by the teachings of His Divine Grace A.C. Bhaktivedanta Swami Prabhupada, the founder acharya of The International Society for Krishna Consciousness (ISKCON), he decided to dedicate his life for propagating the message of Bhagavad Gita and joined International Society for Krishna Consciousness (ISKCON). He was initiated by the spiritual name His Grace Devamrita Dasa. Since then he has served in many important projects and has preached the message of Bhagavad gita very widely, especially to the student community. He served as temple president in Mumbai, Belgaum and Vrindavan- which is the spiritual hub of world wide ISKCON temples. He has been preaching in many prestigious educational institutions all over India.

Commemorating the hundredth birth anniversary of Srila Prabhupada in the year 1996, he travelled widely and conducted National level theistic debate competitions in various colleges and Universities across India and Nepal, covering 250 cities and over 5000 colleges. During this period, He inspired many people in different parts of India, to practice and preach the message of Bhagavad gita. In the month of March, 2010, honoring his dedication and devotion, He was awarded the order of Sannyasa (Renunciation) in ISKCON, with the title His Holiness Bhakti Rasamrita Swami. In his more than 23 years of dedicated devotional life in ISKCON, he has rendered several important services, preached in many countries of America, Europe and USSR, and continues to do so. Presently he is temple president of ISKCON Belgaum centre, where He is inspiring thousands of people to seriously practice the sublime teachings of the Bhagavad-gita, and is overseeing the development of a "self- sufficient vedic eco village" (Gokul Dham) in 450 acres of land near Belgaum.

Listen
Download
To save, right click and choose Save As.
BRasamritaSw Ramayan Lila 01 6.47 MB · WMA
BRasamritaSw Ramayan Lila 02 6.16 MB · WMA
BRasamritaSw Ramayan Lila 03 7.53 MB · WMA
BRasamritaSw Ramayan Lila 04 6.39 MB · WMA
BRasamritaSw Ramayan Lila 05 5.99 MB · WMA
BRasamritaSw Ramayan Lila 06 8.08 MB · WMA
BRasamritaSw Ramayan Lila 07 9.58 MB · WMA
BRasamritaSw Ramayan Lila 08 5.95 MB · WMA
BRasamritaSw Ramayan Lila 09 5.53 MB · WMA
BRasamritaSw Ramayan Lila 10 10.79 MB · WMA
BRasamritaSw Ramayan Lila 11 10.35 MB · WMA 
BRasamritaSw Ramayan Lila 12 10.49 MB · WMA
BRasamritaSw Ramayan Lila 13 6.58MB . WMA 
Created: 29 January 2012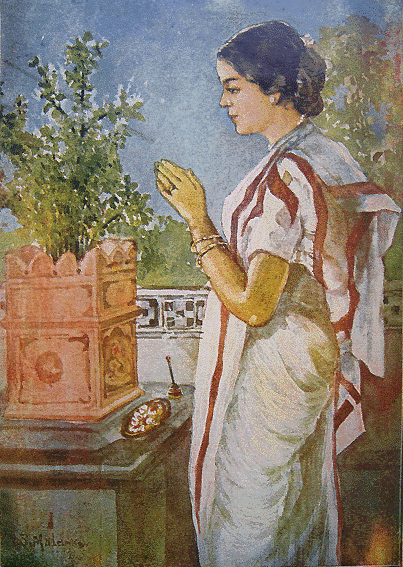 "Every home with a Tulasi plant is a place of pilgrimage, and no diseases, messengers of Yama, the God of Death, can enter it."Skandapurana 2, 4, 8, 13 Padmapurana Uttarakhanda. Wherever the aroma of Tulasi is carried by the wind, it purifies the atmosphere and frees all animals from all baser tendencies." Padmapurana, Uttarakhanda. "Vishnu, the Lord of the Three Worlds, takes up abode in the village or the house where Tulasi is grown. In such a house no one suffers calamities like poverty, illness or separations from dear ones." Padmapurana, Uttarakhanda, 6-24-31-32.
"So there are three mantras, one for bowing down, one for collecting the leaves. The collecting of leaves should be done once in the morning for worshipping and for putting on the plates of foodstuffs to be offered. On each bowl or plate there should be at least one leaf. So you follow and practice these Tulasi affairs and you try to distribute your experience to all the other centre's, that will be a new chapter in the history of the Krsna consciousness movement." (Srila Prabhupada to Govinda dasi, 7th April, 1970)
Srimati Tulasi Devi is Srimati Vrnda Devi's beautiful and graceful, partial expansion in this material world.
There are two types of Tulasi: Krsna Tulasi, which has purple colouring in the leaves and stems and Rama Tulasi with green leaves and stems. Both of these Tulasi are used in the worship of Lord Krsna.
Although we can never fully describe the glories of Tulasi-devi, an eternal associate of Lord Krsna. The scriptures give us a hint of the value of worshiping her. The following list comes from the Padma Purana.
Tulasi is the essence of all devotional activities. The leaves, flowers, roots, bark, branches, trunk, and shade of Tulasi-devi are all spiritual.
One who with devotion applies the paste of Tulasi wood to the Deity of Krsna will always live close to Krsna.

One who puts mud from the base of the Tulasi tree on his body and worships the Deity of Lord Krsna gets the results of one hundred days worship each day.

One who offers a Tulasi manjari to Lord Krsna gets the benefit of offering all other varieties of flowers, and he goes to the abode of Krsna.

One who sees or comes near a house or garden where the Tulasi plant is present gets rid of all his sinful reactions, including that of killing a brahmana.

Lord Krsna happily lives in the house, town, or forest where Tulasi-devi is present.

A house where Tulasi-devi is present never falls on bad times, and it becomes purer than all holy places.

The fragrance of Tulasi-devi purifies all who smell it.

Lord Krsna and all the demigods live in a house where mud from the base of the Tulasi tree is found.

Without Tulasi leaves, Lord Krsna does not like to accept flowers, food, or sandalwood paste.

One who worships Lord Krsna daily with Tulasi leaves attains the results of all kinds of austerity, charity, and sacrifice. In fact, he has no other duties to perform, and he has realized the essence of the scriptures.

One who puts into his mouth or on his head Tulasi leaves that have been offered to Lord Krsna attains Lord Krsna's abode.

In Kali-yuga, one who worships, remembers, plants, keeps, or performs kirtana before Tulasi burns up all sinful reactions and quickly attains Lord Krsna's abode.

One who worships Lord Krsna with Tulasi leaves releases all his ancestors from the realm of birth and death.

One who remembers the glories of Tulasi or tells others about them will never take birth again.
Quick Morning Tulsi Devi Worship
1. Do Sri Tulasi Pranama
vrndayai tulasi-devyai
priyayai kesavasya ca
krsna-bhakti-prade devi
satyavatyai namo namah
vrndayai--unto Vrnda; tulasi-devyai--unto Tulasi-devi; priyayai-- who is dear; kesavasya--to Lord Kesava; ca-and; krsna-bhakti-- devotional service to Lord Krsna, prade--who bestows; devi--O goddess; satya-vatyai--unto Satyavati; namah namah--repeated obeisances.
I offer my repeated obeisances unto Vrnda, Srimati Tulasi-devi, who is very dear to Lord Kesava. O goddess, you bestow devotional service to Lord Krsna and possess the highest truth.
2. Perfom Sri Tulasi Pradaksina saying this Mantra while doing it
yani kani ca papani
brahma-hatyadikani ca
tani tani pranasyanti
pradaksinah pade pade
yani kani--whatever; ca--and; papani--sins; brahma-hatya--killing of a brahmana; adikani--and so on; ca--also, tani tani--all of them; pranasyanti--are destroyed; pradaksinah--(by) the circumambulation (of Tulasi-devi); pade pade--at every step.
By the circumambulation of Srimati Tulasi-devi all the sins that one may have committed are destroyed at every step, even the sin of killing a brahmana.
3. When picking Tulasi leaves, chant the following mantra:
tulasy amrta janmasi
sada tvam kesava-priya
kesavartham cinomi tvam
varada bhava sobhane
4. Offer Tulasi leaf on the feet of Shri Krishna as the Lord likes Tulasi leaves.
Download this Article and the Mantras as pdf file (3 pages - 230 Kb) - Quick-Morning-Tulasi-Devi-Worship.pdf
For full details The Worshiping of Srimati Tulasi-devi, please visit http://www.vrindavan-dham.com/vrinda/worshiping-tulasi.php and
http://www.deityworship.com/worship/worshipping-tulasi-devi/prayers-worship-tulasi-devi/
Created: 23 January 2012

This festival celebrates the appearance of Lord Chaitanya Mahaprabhu. It is observed annually (in late February, early March) by Krishna devotees all over the world—especially in the area of Mayapur, India, the place where He appeared in the year 1486.
Lord Caitanya Mahaprabhu is Krishna Himself, appearing as His own devotee, to teach us that we can gain full enlightenment simply by chanting the holy names of the Lord:
Hare Krishna, Hare Krishna, Krishna Krishna, Hare Hare/
Hare Rama, Hare Rama, Rama Rama, Hare Hare
Created: 18 November 2011
This is the anniversary day commemorating the day that Srimad Bhagavad Gita was spoken by Lord Sri Krishna to His dearmost devotee Arjuna at the place now known as Jyotisar Tirtha amid the waring families of the Kurus and the Pandavas at Kurukshetra. If one wishes one can still go and visit that place and see the monument erected there with Krishna as Parthasarati (the chariot driver) and Arjuna the warrior on their chariot. It is claimed by the ashram who maintain the shrine that the tree that is next to Them is a continum growth of the original tree witness that was there at the actual day of speaking.
Link to Bhagavad Gita.
Traditionally devotees come to Kurukshetra (Dharmakshetra) and recite Bhagavad Gita from early morning until the next morning, perform arati to Bhagavad Gita and to Krishna and Arjuna upon the chariot, offer lamps 'deep daan' at Brahma Sarovar, shloka recitals, shobha yatras and seminars on the significance of the Gita today.
Devotees who cannot get to Jyotisar Tirtha remember the blessed event by reciting Bhagavad Gita, and discussing the subject matter of Bhagavad Gita in the association of devotees. Distribution of Bhagavad Gitas' on this day is also a very auspicious activity to perform.
Created: 29 October 2011
All devotees are welcome to Tulsi Vivah Wedding at Shree Laxminarayan Temple, Holland Street, Suva - Fiji on Sunday 06 November 2011. Link Laxmi Narayan Mandir Suva.


Created: 27 October 2011
Srimati Tulasi Vivah is an auspicious ritual observed in the month of Kartik. It is celebrated in honor of the ceremonial marriage between the Holy Tulsi plant and Lord Vishnu or Shri Krishna. Tulsi Vivah is celebrated on the 11th day of the bright lunar fortnight of the month of Kartika (mid October to mid November), according to Hindu lunar calendar. Please read more.

Watch the film based on Srimati Tulasi Devi and Saligrama Vivah.
Created: 26 October 2011
Hare Krishna group puts the RWC crowd to dance in Queens Street, Auckland!

We are grateful to the website http://www.dandavats.com, from where the news item has been taken.
Created: 23 October 2011
Inviting everyone to come and offer ghee lamp to Yasoda Krishna in our Sri Radha Damodar Temple Iskcon Sigatoka Fiji, since its the most auspicious month of Kartik or Damodar month which ends on the 11th of Nov together with the grand 1st anniversary of Their Lordships.
Wishes & desires will definitely be fullfilled when sincere & loving devotional service is done in this month. You can sponsor breakfast, lunch or dinner prasadam to The Divine Couple in this most glorious time or on any special occasions by contacting me on cell no: (679) 9373703- Gita Kirti Dasi. For those who live in Fiji please come over and offer lamp. Hare Krishna and may Krishna bless you all.
Subcategories
Falling between the end of August and beginning of September, Janmashtami is the celebration of the birth of Lord Krishna, the Supreme Personality of Godhead. According to Vedic astrology, it is signalled by the appearance of a certain star in the sky called 'Rohini Nakshatra' (Western name 'Aldebaran'), and calculated according to the lunar calendar. Lord Krishna Himself explains why He appears in this world:

"In order to deliver the pious and to annihilate the miscreants, as well as to reestablish the principles of religion, I advent Myself millennium after millennium."
(Bhagavad-gita, 4.8)
Krishna's appearance on earth occurred approximately five thousand years ago, or circa 3228 B.C. The thrilling story behind His divine advent is described in the ancient Vedic scripture Srimad-Bhagavatam. Here is a condensed summary:
Once when the entire world was overburdened by the increasing military power of demons in the form of kings, the personification of Mother Earth, accompanied by the demigods, approached Lord Vishnu for help to alleviate the suffering of the planet. After hearing their prayers, Lord Vishnu informed them that He would appear on the surface of the earth to mitigate the burden created by the demoniac kings.
One of these demons in royal guise was the evil King Kamsa. He heard an ominous voice from the sky which warned him that the eighth son of his sister and brother-in-law (Devaki and Vasudeva) would be his nemesis and eventually kill him. Upon hearing this omen, Kamsa was immediately ready to kill his sister Devaki, but Vasudeva diplomatically began to instruct him against committing such a heinous act. However, Kamsa was not satisfied by Vasudeva's instructions, and so had the couple arrested and imprisoned. Fearing that any of Devaki's children could be his divine nemesis, Kamsa proceeded to systematically kill each child, one after the other.
But one stormy night the eighth child, Krishna, was born. Mystical powers were at work that night as the prison chains around Vasudeva's ankle became unclamped, and all the prison guards mysteriously fell asleep, thereby allowing Vasudeva to flee with the newborn baby Krishna. Together they escaped across the river Yamuna, sheltered from the storm under the hood of a divine serpent sent especially for their protection.
When Vasudeva and Krishna arrived at the banks of the river in the township of Gokula, Vasudeva quickly made his way to the house of his friend, Nanda. It just so happened that at that time Nanda's wife had given birth to a baby girl the previous night. So, in his attempt to preserve the life of his beloved son Krishna, he swapped Nandas' baby girl and replaced her with Krishna. That same night Vasudeva returned to Kamsa's prison so as not to arouse suspicion. The next day, Nanda's wife, Yasoda, awoke to find she'd had a son, too forgetful after a long night of labour to remember that she'd actually had a girl. So Krishna was raised in the house of Nanda and Yasoda as their own, and on His first birthday a huge celebration was held. This is the wonderful celebration of Janmashtami.
Janmashtami is joyfully observed until midnight, the time of Lord Krishna's appearance. In honour of the occasion, devotees generally fast right up to midnight. They congregate at temples and immerse themselves in singing devotional bhajans and kirtans, and hearing and reciting from the scriptures. Plays are performed that depict the Lord's advent and miraculous pastimes, and the temple Deity of Lord Krishna is lavishly decorated and worshipped. The festival culminates at midnight when a grand arati (worship) ceremony is offered to the Lord, followed by distribution of prasadam (sacred vegetarian foodstuffs) marking the end of the fast.
Today, thanks to the unparalleled spiritual achievements of His Divine Grace A.C. Bhaktivedanta Swami Prabhupada, knowledge of and devotion to Krishna is flourishing outside of India. The fact that Janmsthami is now celebrated by millions worldwide is testament to this fact.
The advent, pastimes and teachings of Lord Krishna are beautifully described in Srila Prabhupada's book, "Krishna: The Supreme Personality of Godhead".